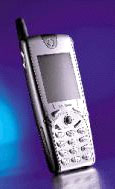 I now have a Microsoft Smartphone 2002 device. It's a Compal AR11 and is replacing my SonyEricsson T68i. So far it's working great and is very useful since it can remotely sync with the Exchange servers at Microsoft anywhere in the world via GPRS. It has improved my productivity and helped me remember meetings that I would normally have forgotten.
I have two complaints:
Battery life isn't great. It needs to be charged every night or it will die.
Lacks built-in Bluetooth support
One intesting note is that Compal builds the new 17″ PowerBook G4 for Apple.
This particular model will be sold by Everlink Wireless in the US and possibly by T-Mobile as well.